Products are the core of the business.
A factory network is critical to product's research and development.
Let's explore the Giffarine's factory on


The Giffarine's factory
The ultimate excellency
The investment budget of the Giffarine's factory is worth 800 million Baht. Situated at the Navanakhon Industrial Estate, the 30-rai compound is designed in line with the GMP principle in terms of structure and materials. Our internationally-accredited manufacturing standard confirms that our capacity is 20,000,000 items per month and 20 billion Baht of sales figure per annum. The facility is run by over 1,000 professional workers and promotes environmental awareness. 

Giffarine
Our factory
The Giffarine's factory
is one of the greatest confidences
that we deliver to our consumers.
The Giffarine's factory manufactures cosmetic products, supplement, traditional medicinal products, spa products and aroma therapy items to domestic and over 40 international markets, and houses the central laboratory that ensures quality and safety of products.
Here are the 3 Giffarine's factories:
Skyline Laboratory Co., Ltd.
Skyline Health Care Co., Ltd.
Giffarine Skyline Laboratory and Health Care Co., Ltd.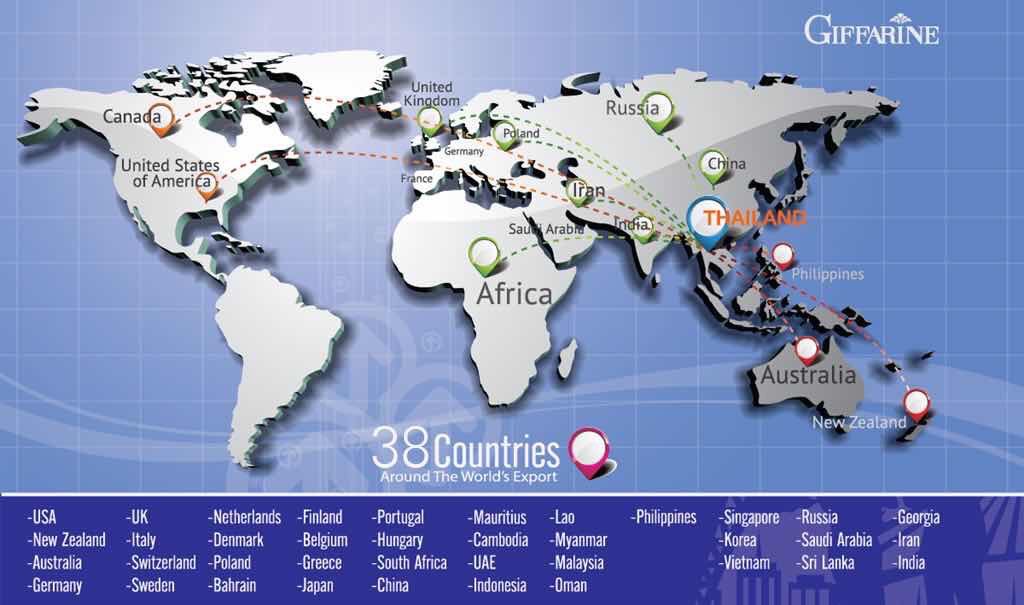 The Giffarine's factory
What's it all about?
The Giffarine's factory is the testimony of Giffarine's stability and growth.
We manage to select highest quality raw materials from every corner in the world and use the state-of-the-art manufacturing process under the physician and pharmacist supervision to create Giffarine products.
Giffarine rapidly succeeds in producing valuable products to meet with the market's demands and to reach the consumers with the fair price.
Giffarine's central laboratory is accredited with the ISO/IEC 10725:2017 so it is internationally accepted. It is famous for field trips and cooperation with academic, public and private sectors. For this reason, Giffarine's central laboratory is the key to the quality control of Giffarine products.
Giffarine's factory generates jobs and income for Thai people. It supports the domestic money circulation and enhance the national economy's growth.